Respiratory therapists assess and manage a wide array of patients, from neonates with underdeveloped lungs to seniors with lung diseases.
As the field evolves, it's increasingly focusing on holistic care—encompassing acute care, preventive measures, and patient education.
The American Association for Respiratory Care (AARC) acknowledges that a bachelor's degree represents the future of the profession. With the Bachelor of Science in Respiratory Therapy from Nebraska Methodist College, you're poised to rise as an industry leader.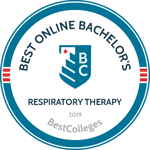 Data from the Bureau of Labor Statistics suggests that in May 2022, a Respiratory Therapist's median salary was $70,540 annually ($33.91 hourly). The forecast also shows an encouraging 13% growth for this profession from 2022 to 2032.
NMC proudly ranks as the 4th best online bachelor's degree in respiratory therapy in the country by Best Colleges in 2019.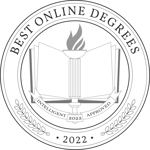 Furthermore, for 2022, Intelligent ranked NMC's RRT to BSRT degree as the 11th best online bachelor's degree in respiratory therapy nationwide. A standout feature recognized was NMC's specialized options, the best in its category.
The ranking commended NMC for having the best specialization options among the top group.