About: NMC's facilities management and space planning provides campus support for services relating to campus buildings, labs & classrooms, campus housing, grounds and the overall campus environment, which includes planning, constructing, managing improvements and maintenance. NMC's facility management and space planning is accomplished through coordination with Methodist Health System and ensures NMC's operates and maintains a physical environment that supports NMC students, faculty, staff, and visitors.
Capital Projects:
2020
OT/PTA Lab Construction—completed fall 2020
Leinart Lobby Renovation—completed spring 2021
A&P Lab Tech Upgrade—completed winter 2020
2021
Clark Lobby/Dining Update—completed summer 2021
Clark Patio Refresh - completed summer 2021
Nursing Lab High-Fidelity Simulators Upgrades—completed summer 2021 and 2022
Testing Center - completed fall 2022
2022
John Moritz Library and Learning and Academic Resource Commons (LARC) remodel - completed spring 2022
Wellness Engagement (WE) Center - completed summer 2022
Classrooms 3214/3216/3218 Teaching Technologies upgrades - in progress
Student Leader Wall - planning
Sustainability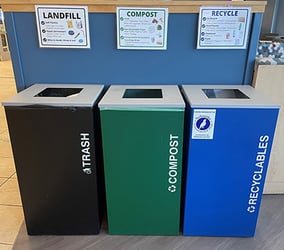 Waste Diversion: In 2020, NMC received a Recycling Equipment Grant from the Nebraska Recycling Council, in conjunction with the Nebraska Wildlife Trust. The Trust is funded by proceeds from the Nebraska Lottery and has awarded more than $289 million to over 2,100 natural resource projects in Nebraska since 1993. The Nebraska Recycling Council is a non-profit, membership organization of public and private organizations, as well as individuals, and has been a recycling advocate for Nebraska since 1980. The funding from this grant allowed NMC to purchase new recycling receptacles for all buildings and housing units on the Josie Harper Campus.
In summer of 2021, NMC piloted a successful composting program on campus in partnership with Hillside Solutions. NMC is proud to report that all paper towel waste from campus restroom facilities is now being composted. Additional composting receptacles are located in the Clark Dining areas to divert food waste. Future expansion of the composting program to campus housing is forthcoming.
Deja Brew: In 2020, Deja Brew phased out all Styrofoam food and drink containers and transitioned to recyclable & compostable containers. This includes clamshells, food containers and drinking cups.